T

here are three types of adjustments on the inventory screen: Add Inventory, Cycle Count, and Scrap. Each of these adjustments creates an accounting entry. I recommend that every company define when to use them and their use be limited to personnel who will be accountable for the accuracy of inventory.
It is all too human to take shortcuts. Say it's end of day, the UPS driver wants to be on his way, but you can't pick one item on the sales order which needs to ship today because receiving hasn't processed the paperwork. So tempting to just cycle count the needed quantity, rather than chase down the paper work – No that never happens.
This type of adjustment is the one you want to use for your initial inventory as it requires a cost for each part. Add Inventory is also used to correct costing layers in a FIFO or LIFO environment (see our blog on correcting costs). The equivalent import to this adjustment is "Add Inventory" – Never use Cycle Count for your initial inventory.
Cycle Count
This type of adjustment is our "OOPS!" It is a measure of Inventory accuracy. It is used when you go out to the warehouse and find more or less inventory on the shelf than is shown in Fishbowl.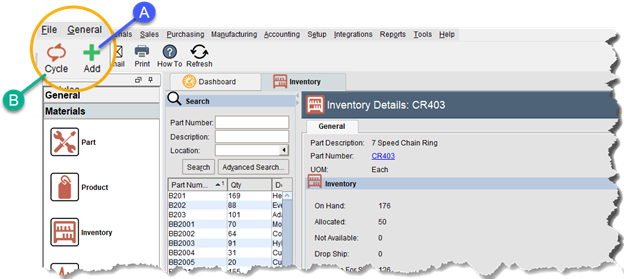 Cycle Count vs Add Inventory
As mentioned before the Add Inventory type adjustment has a requirement to include cost, but there is another very important difference. Cycle Count Adjustments replace the inventory count in a location–­­­ whereas Add Inventory adds more quantity to the existing quantity in that location. For example, let's say Fishbowl is showing 10 units in location Main-Stock. If I cycle count 4 units in Main-Stock, the quantity in Main-Stock will be 4. If I Add Inventory to Main-Stock, the quantity in Main-Stock will then be 14.
Scrap Inventory
This type of adjustment is our "UGH." It can be a measure of many different elements. I use it when I have an item in my hand and need to throw it away. It can also be a measure of yield in the manufacturing process.
The account coding for the adjustments can either be the defaults as set during the initial configuration with QuickBooks or it can be mapped to individual part numbers. You may choose to have several different adjustment and scrap accounts depending on what you need to measure.